The beauty of natural hair is always unbeatable by artificial hair or hair extensions. Having our natural hair get damaged is a painful thing, and the most is not knowing how to repair your damaged hair. We mostly look for natural ways to repair our hair, which are safer, and one of them is the LOC method or the Liquid Oil Cream method.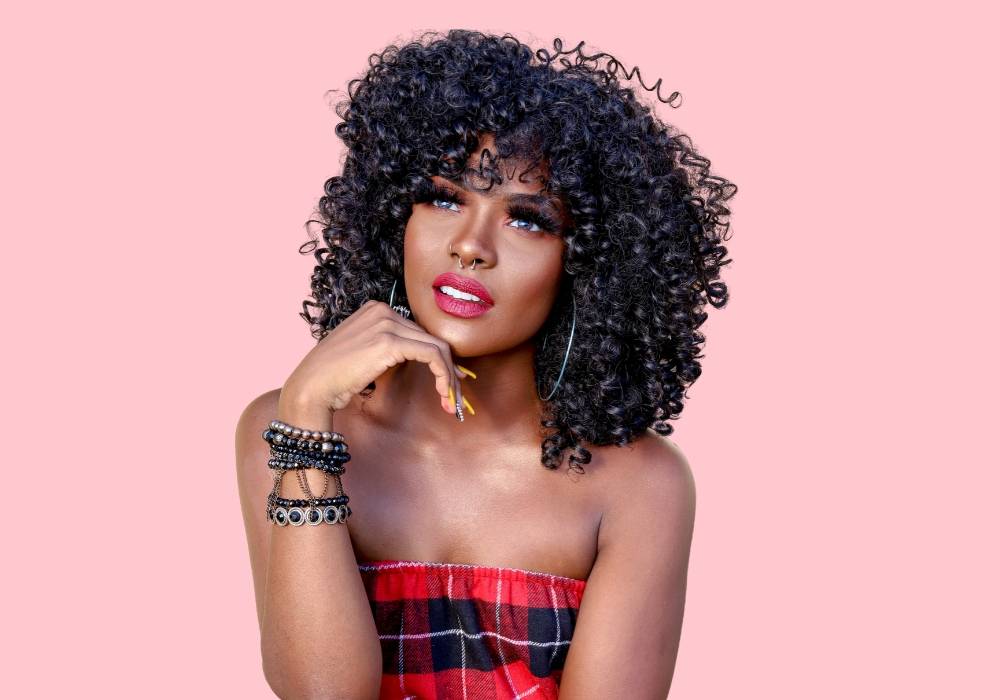 What is LOC?
LOC, as the name suggests (Liquid/Leave-in Conditioner, Oil, Cream), is a stepwise method to repair your natural hair. It instructs what kind of products you should apply to your hair, as well as the sequence of the layers you should apply to your hair to get the most moisture.
At every step, the layer you apply locks in the moisture of the previous layer.
It can be used on any type of hair, and it is easy to incorporate. You don't have to buy new products to try out this method, so it saves your money too.
Here is how to do the LOC method:
Liquid: The first step is to use the Liquid or the Leave-in conditioner.
You can use a water-based conditioner, or you can use water itself. If you want your hair to be more healthy, then you can also use aloe vera juice. Just pour in a bottle and spray it on your hair!
Oil: The next step is the oil. Before applying the oil, it is necessary to know which oil suits you the best. Applying oil seals the moisture of your hair that you get from step one.
Cream: The last step is to apply a cream that will seal the moisture more tightly.
If you don't want to use cream, you can also use butter. You can either use Shea Butter or Cocoa Butter as it gives an ample amount of moisture to your hair.
Let your hair absorb the moisture and enjoy the beautiful curls!
Benefits of the LOC Method
LOC comes with several benefits, which makes it a must-try to help your hair grow and become more healthy.
Here are some benefits of the LOC method for hair growth:
Low cost: LOC is a very reasonable method to help you grow your hair. You don't have to buy any special products to continue with this method. You can use your regular products and get a satisfactory result.
Permanent: Since your hair is already in LOC, it keeps on providing moisture to your hair so you won't be needing any kind of extra care for it.
Protected: When your hair is in LOC, they are protected as they hold the moisture, which helps in keeping your hair protected from the damaging caused by different factors.
Doesn't Require Much Attention: When you try the LOC method, it takes minimal attention. You could try hairstyles which don't require any kind of preparation before or at night. You could just get up and pull a nice hairstyle that wouldn't even look shabby.
Promotes Hair Growth: LOC promotes hair growth by preventing hair loss or hair shedding.
Easy to Maintain: You don't have to worry about how the weather would affect your hair as long as your hair is in LOC.
Can Be Styled For Any Occasion: Your hair can be styled easily for any occasion, be it a family function or hanging out with friends after the LOC method.
How is LOC different from LCO?
Like LOC, LCO, too, is a method for hair growth, which means Liquid Cream Oil.
The first difference is the order in which you apply the products.
The difference that these two methods make is that in the LCO, the moisture is locked well enough for a long time as the oil is a sealant, whereas in the LOC method.
Oil works in the same way as the products with cream do but have oil as the last layer protects your hair better.
How to do the LOC method on Different Hair Types?
One benefit of LOC is that it can be done on different hair types. Here are few hair types and some information on how to do LOC on them as well as how frequently you should use this method depending on your hair type.
1. Natural Hair
Doing LOC for Natural Hair is simple. It only requires to go stepwise.
The first step being is by applying a Leave-in conditioner or a water-based conditioner (water alone can be used as well) and then using oil that suits your hair the most, to seal the moisture from the water-based conditioner and at the end using a Cream product to lock the moisture in your hair.
2. Curly Hair
Wash your hair thoroughly and then move on to apply the products step-by-step. Use the water-based conditioner and then to the oil and finish it up by using the cream. It is advised to brush your hair after every step to evenly spread the LOC on your hair to give more moisture.
3. High Porosity Hair
High Porosity hair tends to absorb moisture quickly using the LOC method on it is the best way to give your hair ample amount of moisture, so they don't dry out as the cream on the outside seals the moisture of the oil.
Using the LOC method is the usual stepwise method, but if you have high porosity hair, it is better to choose products that have more amount of moisture in them.
4. Low Porosity Hair
When you do the LOC method on Low Porosity Hair, it is suggested that you use warm water in the first step rather than cold water as using cold water closes your pores before absorbing the moisture. Then use the Oil and Cream step-by-step to seal the moisture in your hair.
You can use the LOC method frequently as it depends completely on how your hair reacts to it. If you have dry hair, you can use it either every day or every week. It depends on how dry your hair is and how fast they absorb moisture. Doing the LOC method frequently will not harm your hair, so it depends on how often you want your hair to get the moisture.
LOCS Method and LOCO Method
The LOCS method stands for Liquid, Oil, Cream, Sealant. It is considered to be one of the best ways to restore the quality of your hair and help them grow. Like the LOC method, the steps are the same; only applying the sealant is a new addition.
Applying a sealant, for example, heavy oil can help seal the moisture for a long time giving your hair more permanent protection from dryness.
Similarly, the LOCO method stands for Liquid, Oil, Cream, Oil. The oil in the last layer, like in the LCO method, seals the moisture permanently. You can use the similar oil you used in step two or can apply another, thicker oil. This method is generally preferable for those who have rebellious and thick hair.
LOC Products for Hair You Can Try
Readers like you help keep The Beautyholic running. When you buy through links on our blog, as an Amazon Associate, we earn from qualifying purchases at no extra cost to you.
Carol's Daughter Mimosa Hair Honey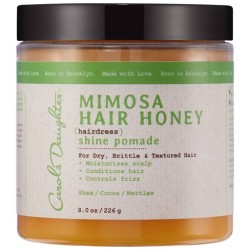 A hair cream that comes with Shea and Cocoa butter as its main ingredients, to use at the last stage of LOC. It moisturizes your scalp and conditions your hair. It helps to controls the frizz. It is suitable for people who have dry hair, brittle hair, or textured hair. It comes with a refreshing citric scent. It gives your hair a healthy shine.
How to use? Take a small amount on your palm, rub both of your hands together, apply it to damp hair. Gently massage your scalp and work it into your hair. Comb your hair and part them and apply a little amount of it, to give your scalp more moisture.
Dollylocks Nag Champa Dreadlock Tightening Spray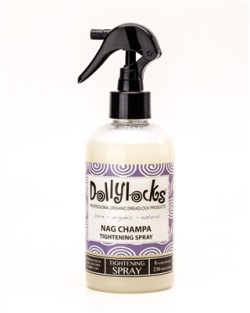 A tightening spray made from organic ingredients. It consists of Coconut water, Hawaiian sea salt, vitamins, essential oils and plant extracts. These ingredients strengthen your hair, nourish your scalp, and protects your scalp from dandruff. It reduces frizzy hair and hydrates your scalp. It comes with a refreshing scent.
How to use? Shake well before using it, you can use it on either wet scalp or dry scalp, and you can use it as frequently as you like.
Locksteady Hair Tightening Gel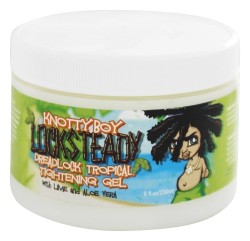 A leave-in conditioner that comes with all organic ingredients which control your frizzy hair. It has a tropical lime scent. It is easy to wash out and makes your hair stronger. It is light and wax-free that protects your hair from damage.
How to use? Apply it on damp or wet hair and palm roll every dreadlock.
Knatty Dread Dreadlocks Cream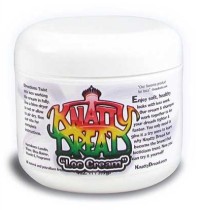 An alternative for dreadlock wax. It is a cream that is made of organic ingredients and has Shea Butter as its main ingredient. It is for textured hair to help it dread. It is a perfect product, which is light, as well as helps your hair holds your hair well. It helps in making your dreads stronger and protects them from everyday stress.
How to use? Take a little bit in your palm and rub your hands together and apply it to your dreads and scalp.
If you're looking for natural products for hair, you can check out Scandinavian Biolabs, a brand that uses plant-based ingredients for creating its haircare products.
Things to Keep in Mind
There are a few things that you should keep in mind before trying the LOC method.
Wet Your Hair Before Starting
It is advised to start on wet hair as it provides your hair with the most moisture. Do it regularly, and you can have satisfactory results.
Make sure that you apply the LOC products on every hair strand and leave no strand behind. The whole point of the LOC method is to help your hair get moisture, so you should apply the products carefully.
Don't Touch Them Afterwards
When you are done with all the steps, it is suggested that you don't touch your hair again and again. By doing so, you would not only be ruining your beautiful curls as well as removing the product from your hair by transferring it to your hands.
If you keep these three things in mind, you would have amazing results and will be satisfied after finishing up with this method.
Frequently Asked Questions about LOC Method
Who should do the LOC method?
This method is most advised for those who have rebellious hair, frizzy hair, or dry hair doesn't matter if they are curly or not. It can also be used by those who have high as well as low porosity hair.
Does the LOC method grow hair?
Yes, the LOC method protects hair from shedding or hair loss and hence promotes hair growth.
Can I use a gel in the LOC method?
Yes, most people use gel instead of using a cream or butter as it gives more definition to your hair and holds your hair better than creams.
Which is better LOC or LCO?
While both the methods are natural and it depends on your hair type, most prefer the LCO method over the LOC method.
It is because having oil as the last layer seals the moisture permanently and gives better results than the LOC method.
The LOC method is the best way to grow your hair as well as make them stronger. Though this method is not very popular, it doesn't mean it is not worth trying.
Final Word
The LOC, LCO, LOCS, and LOCO methods are natural, and you don't have to spend much amount of money on them. The best part about these methods is that you can do them at your home, with your favorite products.
Since they are all-natural ways to grow hair, you can use these methods frequently without worrying about if the products would harm your hair.
After the LOC method for hair, you don't have to worry about giving constant attention to your hair. Also, you can style your hair for every occasion without much preparation!
Related Posts:
9 Coconut Oil Hair Mask Recipes For Your Every Hair Type
9 Best Redensyl Products for Hair Growth
5 Reasons Why You Should Embrace Organic Hair Products
Reviving Egg Hair Masks for Every Hair Type