You might have a hard time deciding among hundred of collagen products which would work for you. To make your search easier, I've compiled a list of the best collagen peptides and powders that give you nourished skin, hair, nails, and joints.
By the end of this post, you will discover:
What are collagen peptides, and which ones are the best available online with pros and cons?
What are their benefits, and why should you choose them?
What you should look for in collagen peptides and powders, and how to buy the perfect one for you?
So, let's dive in quickly.
What is Collagen?
Collagen is one of the most important proteins for your body. It stimulates the growth of new cells, which is why an abundance of collagen can enhance the youthful appearance of the skin. Therefore, most anti-aging creams have collagen these days.
Besides anti-aging benefits, collagen also strengthens bones because it is a major component of connective tissues. Collagen-rich supplements have recently become very popular due to their effectiveness and visible results.
Apart from strengthening your hair, it also strengthens and nourishes you from the inside. Is there anyone who does not desire healthy skin, hair, nails, and joints? Collagen peptides will help you to achieve this goal.
What are collagen peptides?
Among the amino acids found in collagen peptides and powders are glycine, proline, and hydroxyproline, which help your body produce collagen. By boosting collagen levels with collagen peptides or supplements, you will improve your body's overall functioning.
Collagen peptides are nothing but collagen that has gone through a process of hydrolysis. Hydrolysis breaks down the amino acids into smaller molecules that are known as peptides. This process is necessary because our body is not able to digest a whole of the collagen. Therefore, it is required to break them into peptides to become easy for our body to digest or absorb.
You can easily add collagen to your diet by taking collagen peptides or powders. Add these powders to any liquid diet, and you're ready to go.
As the most abundant protein in our bodies, collagen makes up 35% of it. Collagen supplements are made from the collagen found in other animals, such as joints, ligaments, tendons, skin, or scales.
Best Collagen Peptide Supplements and Powders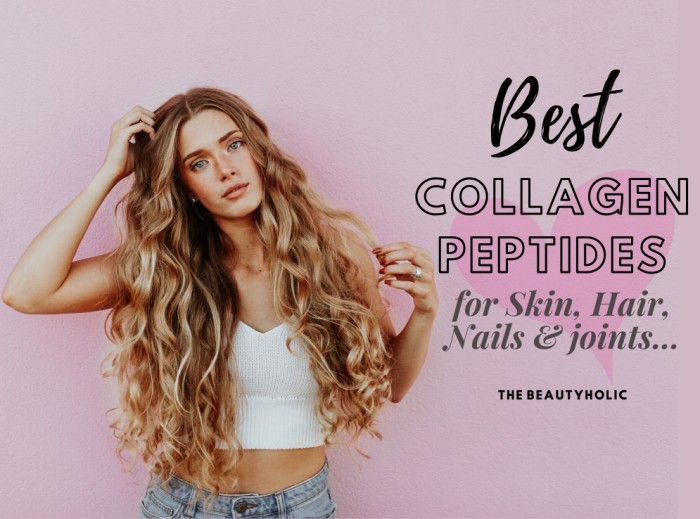 There are hundreds of collagen peptides and powders to choose from now that collagen is so popular, and there is so much hype about it.
It's hard to choose from so many options. So here is a list of the top eleven collagen peptides and powders, which will help you narrow down your options, and you will be able to select the best one for you.
Readers like you help keep The Beautyholic running. When you buy through links on our blog, as an Amazon Associate, we earn from qualifying purchases at no extra cost to you.
MAV Nutrition Collagen Peptide Protein Powder
Check Price on Amazon
The collagen peptide in this product comes from a grass-fed and pasture-raised animal. It is unflavored and pure hydrolyzed. It claims to give you beautiful hair, skin, and nails.
A new collagen powder formula from MAV Nutrition provides nutrient-rich collagen peptides. The product contains highly bioavailable peptides and amino acid chains derived from collagen, making it easy for key building blocks to be converted to amino energy, which is easily absorbed.
Because collagen, just like your whey protein powder, helps to curb hunger. You can also benefit from taking collagen powder for fat-burning muscle support. Furthermore, collagen supports healthy digestion because it is an essential component of the gut's connective tissue.
What's good?
Any type of juice or water will dissolve it easily.
With twice-daily use, you will begin to notice a difference after just two weeks.
For those who experiment with a variety of diets, this particular supplement is keto and paleo diet-friendly.
What's not so good?
Most complain about the quantity of the product being sold by weight, which includes the jar as well, and not volume.
Doesn't have a pleasant odor.
Zammex Premium Hydrolyzed Collagen Peptides
Check Price on Amazon
The hydrolyzed collagen peptides by Zammex nutrition claim to promote healthy skin and an active lifestyle by promoting collagen production.
From pasture to processing, they claim their collagen is pure. Besides making you feel great and looking good, it will benefit your skin, nails, hair, digestive system, bones, and so on.
What's good?
They use grass-fed and pasture-raised cattle.
You can mix them easily. When mixed with any food or beverage, they will transform into a protein-rich superfood.
The product helps relieve muscle or joint pain or stiffness.
You'll see noticeable growth in your eyelashes, brows, and nails.
There is no added odor or flavor.
What's not so good?
The tag of flavorlessness can be misleading because this supplement is not odorless or with no flavor added. For them, it tasted weird.
BioOptimal Collagen Powder
Check Price on Amazon
With BioOptimal, you get everything you need in a collagen powder supplement. Bioptimal collagen powder is non-GMO, low calorie, gluten-free, sugar-free, paleo-friendly, keto-friendly, and gluten-free.
It contains no flavoring. Besides water, you can mix collagen powder with coffee, soup, and other beverages. The collagen protein and amino acid profile make it a powerful food.
What's good?
A pure, water-soluble collagen product that is free from antibiotics and growth hormones.
An individual who had undergone hip surgery said that this product helped her soft tissue and joints.
Doesn't cause an upset stomach.
Relieves pain in different parts of the body.
This collagen peptide powder has been shown to prevent aging effectively.
What's not so good?
The supplement has been bashed for false advertising of it being easily soluble since it does not dissolve well in drinks and creates lumps.
Amandean Collagen Peptides Powder Packets
Check Price on Amazon
This is sourced from 100% pure pasture-raised grass-fed South American happy cows.
This collagen peptide is made from natural, non-GMO ingredients gluten-free, fat-free, soy-free, dairy-free, and sugar-free. Also, it does not contain wheat, corn, eggs, or yeast.
This supplement is unflavored, easy to mix, and has no taste. It promotes smooth, firm, and clear skin and helps to manage fine lines and wrinkles. This collagen peptide powder is perfect for low carb, high protein nutrition.
What's good?
To make it travel-friendly, this product comes in single-serving stick packs, so you can take them wherever you go.
Gives skin a smoother appearance after using it.
This product can help you achieve tight, beautiful skin if you suffer from rosacea. In just one week, it shows results.
What's not so good?
Generally, it doesn't mix very well with coffee or any other such beverage, especially cold beverages.
Ancient Nutrition Multi Collagen Protein Powder
Check Price on Amazon
Formulated by Dr. Josh Axe, this product contains collagen peptides derived from food sources that support joints, skin, and nails. It is gluten- and dairy-free.
As it contains multi collagen protein powder, sticking to one product becomes easier, and you don't have to choose between beauty benefits and supporting your overall health, states the product.
The collagen peptide powder has been awarded the 'Better Nutrition' award for multi collagen protein, the 'Best of Supplements' award, and the 'Best of Natural Beauty' award.
What's good?
A sixty-year-old woman wrote that she orders it all the time and that it makes her skin glow.
Helps in nail growth.
Reduces junk food cravings and curbs appetite.
Results are likely to be noticeable in four weeks.
What's not so good?
The formula has changed over the years. Lumps are noticeable.
Some people experience breakouts and allergies.
Physician's Choice Collagen Peptides
Check Price on Amazon
The product comes with a formula that enhances absorption. Physician's Choice Collagen Peptide claims to fix problems related to collagen.
When taken without a bioavailability agent, collagen is not effectively absorbed into the bloodstream or intestinal wall. It claims to resolve the problem by formulating double hydrolyzed collagen peptides supplements.
In addition, the formula contains digestive enzymes, which improve absorption. The eighteen essential amino acids in collagen support the skin's health, appearance, and elasticity. The tissue provides structure to the body, binds cells, and works on the connective tissues.
What's good?
Users reported a 75% improvement in knee pain.
This collagen supplement is by far the best for the price as compared with others.
Improvement in hair and nails is visible from the first few uses.
Provides great relief from arthritis pain and aids in sleeping as well.
What's not so good?
There were reports that it was half empty when it arrived, which is disappointing.
Sports Research Collagen Peptides Powder
Check Price on Amazon
When around the age of 30, our bodies naturally begin to produce less amount of collagen. This collagen supplement will help with that and increases collagen growth.
You can consume it with any food or beverage, oatmeals, soups. It is suggested to use it at warm or room temperature.
It has also got this ninety days satisfaction guarantee. If you do not see any results within ninety days, you can simply return the product for a refund.
What's good?
In just one day, it was noticeable that collagen peptide powder can reduce constant hunger and cravings.
Excellent results on nails, hair, and joints.
What's not so good?
Some users complain about gas and bloating. It is therefore recommended to start with a smaller amount.
Some may experience bumps, allergies, and rashes on the skin.
Livewell Nutrition Labs Collagen Peptides
Check Price on Amazon
Hydrolyzed type I and III collagen peptides from Livewell are sourced from grass-fed, pasture-raised, grade A bovines and are hormone-free, non-GMO, and certified non-GMO.
These peptides support the health of bones, joints, hair, skin, and nails by improving bioavailability and absorption.
As well as improving gut and immune function, it also claims to enhance the overall cellular structure of the body, allowing you to live a more fulfilling life.
What's good?
With regular use of the peptide, one can get clear skin in about a month.
There is no taste to it, and it does not smell either.
Pain relief for joints and hips.
You need less quantity, so it lasts longer.
What's not so good?
Serving size may not be up to the claim.
Vital Proteins Collagen Peptides Powder Supplement
Check Price on Amazon
Collagen peptides from Vital Proteins are easily digestible. Adding a scoop of collagen peptides to food or beverages one or two times a day gives you the vitamin boost you need for healthy hair, skin, and nails, bones, and joints.
Mix this product with water, fruit juices, or other beverages to use with various recipes. Add smoothies as a protein booster to oatmeal, soups, sauces, desserts, and you'll be able to get more protein.
These mix well with hot or cold liquid, making them an easy addition to any diet.
What is good?
Despite not taking the supplement for a week, one user noticed her skin feeling amazing.
Short-term effects like skin glowing and brightening within hours of consumption.
Enhances hair growth and strengthens it.
What's not so good?
Allergic people may develop rashes and cold sores soon after using this product.
Tastes weird
Optimum Nutrition Hydrolyzed Collagen with Hyaluronic Acid
Check Price on Amazon
This formulation of Collagen and Hyaluronic Acid helps to nourish the body from the inside out while supporting its natural radiance.
The combination of collagen, biotin, and hyaluronic acid promotes healthy skin, hair, nails, and joints. They contain a special blend of vitamin C, D, and E to support the health of active, healthy adults.
What's good?
A smoothie-like consistency, it is filling and sweet.
The canister is filled to the brim with the product, so the quantity is good.
As well as vanilla, it comes in other flavors as well.
What's not so good?
While the flavoring can be considered a positive aspect, the taste and texture of the product weren't up to the mark. Taste appears to contain stevia, a sweetening agent.
Vital Vitamins Multi Collagen Pills
Check Price on Amazon
Multi Collagen Complex from Vital Vitamins contains hydrolyzed collagen peptides from grass-fed beef, collagen from chicken bone broth, collagen from eggshell, and collagen types I, II, III, V, and X.
The capsule contains collagen in a convenient form. It helps with toning, rejuvenation, and joint health. Contains grass-fed, pasture-raised, hormone-free, and cruelty-free collagen derived from pure, non-GMO, grass-fed, and pasture-raised sources.
What's good?
Works well on pain, especially post-operative pain.
A pleasant taste with no bad aftertaste.
As it stimulates healthy hair growth, it is a gamechanger for hair.
Strengthens and shines nails.
What's not so good?
Allergic people may develop rashes and itching.
Why Should You Choose Collagen Peptides?
Our collagen production slows down as we grow older, and studies have shown that collagen production decreases by 10-12% with each passing decade. We lose up to one-third of our collagen by the age of 70, as the collagen begins to degrade by the thirties. As a result, your body becomes collagen deficient.
Skin loses elasticity when it is not moisturized, and collagen restores the skin's elasticity. Due to collagen, the young recover from injuries much faster than they do in middle age.
Food alone can't compensate for lack of collagen. Taking collagen supplements can help improve your overall health and make you more beautiful.
Nowadays, almost everyone consumes junk food and meat. Rather than eating from head to toe, they consume the meaty parts that do not contain collagen and leave the rest. Therefore, collagen peptides are the ideal way to replenish your body with collagen.
Benefits of Supplementing with Collagen Peptides
Works great as a protein powder post-workout. It provides your body with the energy it needs after a tough workout, and these collagen peptides are the same. You get a protein fix for your muscles instantly.
Helps in weight loss by decreasing your carb cravings.
Prevents a leaky gut, a problem that affects adults.
Makes your skin supple so that it does not crack when you stretch, thereby reducing the early signs of aging.
For shiny nails, beautiful hair, and soft skin.
Especially useful for digestion issues.
Ensures smooth function of the connective tissues, strengthening the muscles and the joints. It also promotes joint growth, which is why a broken arm heals faster during youth than during older adulthood.
Maintains heart health.
Improves liver function.
The body digests it easily.
How to choose a collagen peptide?
Stick to Type I: It is recommended that you stick to type 1 collagen. Among the many types of collagen in our bodies, type 1 is the most prevalent. Their small size makes them easier to absorb.
Powdered one works better: There are three forms of supplements: liquid, powder, and capsules. Powder forms are usually more effective.
Supplement collagen with Vitamin C: Vitamin C enhances the effects of collagen and works well with it. Thus, vitamin C will be an excellent complement to collagen.
Research before you buy: Certain ingredients are found in many collagen peptides. To avoid any side effects or allergic reactions, it is highly recommended that you do some research on that and talk to your doctor about it.
Concentration is key: Make sure you know how much collagen you need. It's a good idea to seek medical advice.
Sugar and preservatives used: As a rule, it is usually recommended to buy collagen powder free of sugar. Also, flavorless supplements are better than one with added flavors.
Tips for buying top-rated collagen peptides
It's no wonder that so many of us are already buying collagen peptides and taking challenges. Due to collagen's recent popularity, there is still not much awareness about collagen peptides and how they work.
The following seven tips will help you buy the top collagen supplements.
Source of collagen peptide: Fish, chickens, and pigs are the primary sources of collagen peptides. Try to stick with collagen from cows or fish since both are considered better sources.
Prioritize unflavored ones: Even though collagen peptides often come with flavors, it's best to skip the flavors since the taste is often too rich but won't do much good for your body. Also, it must be gluten-free.
Make sure it is grass-fed and pasteurized: Supplements must come from a reputable source. It is essential that the animals should have been grown in a pasteurized, grass-fed environment.
Hormone-free, non-GMO-verified supplements are the best, and if they are keto- and paleo-friendly, even better.
Do your own research on the ingredients to avoid any adverse situations.
The fewer the ingredients, the better the supplement.
When you buy a supplement, go through all the reviews.
Final thoughts
The health and welfare industry has recently come up with many different types of supplements after years of experimentation. In a similar vein, collagen peptides work amazingly well for the skin, hair, joints, and nails.
A good collagen diet will bring some positive changes to the skin. But one thing to keep in mind is that every person's body is unique, so everyone should do what suits their body.
The collagen peptides available contain different ingredients, some of which might work for someone, others might not. For this reason, consult your physician before beginning any new regimen taking into account any allergies you may have.