Is there anything better than learning new things and making yourself look good at the same time? Beauty activities are a fun way to spend time with your kids—while pampering them!
To get crafty and create something as simple as a face mask can be incredibly rewarding and open doors to real learning.
You may want to do these activities at home to pamper each other and give your kid an opportunity to learn along the way. They're so simple—even a toddler can do them.
Let's get going!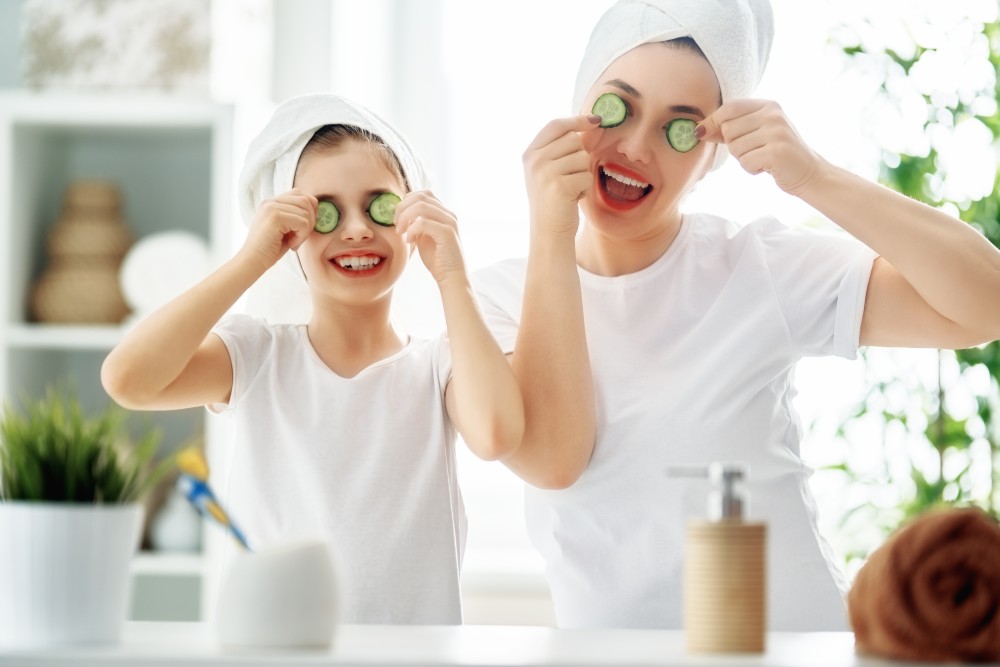 #1 Cooling cucumber face mask
Cucumbers are here! Summer is right around the corner, so it's time to cool off with your kids.
Cut a cucumber into pieces and blend it well. Add a tablespoon of yogurt and combine the mixture. It's ready—just apply the mixture on your little one's face and neck. For an eye mask, apply the leftover cucumber slices on the eyes. 20 minutes after applying the mask, rinse it off.
#2 Chocolate lip balm
The joy of chocolate is not limited to your kiddo's sweet tooth. This recipe will hydrate their chapped lips.
Take 3 tablespoons of cocoa powder, 1 tablespoon of shea butter, and coconut oil. Combine everything well and refrigerate until it transforms into a wonderful-looking chocolate lip balm.
#3 Soothing milk bath
While not all children enjoy milk, adding it to a bath won't cause them any harm. Use coconut milk if they are allergic to milk or vegan.
Take 35 ounces of milk, add your favorite flower petals, and a few drops of lavender essential oil. Mix the ingredients together and add them to the warm bath.
#4 Strawberry face scrub
Strawberries are a favorite among kids. Get ready to use them to give your skin the glow it needs. Take 3 to 4 strawberries and 3 drops of almond oil. Combine them to make a fresh, sweet-smelling scrub.
#5 Banana hair mask
Peel a banana and mash it with a fork in a bowl. Sprinkle a few drops of olive oil for the added nourishment. Once the paste is ready, apply it to the hair and let it sit for 15 minutes before washing it off.
#6 Avocado foot massage
Once you eat the avocado, you will be left with the shell and seed. Don't throw them away—rub the inside of the shell on your feet to exfoliate and hydrate. The seed? Use it as a foot massage stone. When you are done, rinse the seed and plant it on a pot to grow a beautiful little houseplant.
#7 A new hairstyle
How about coming up with a new hairstyle together? Hand them everything they need—a hairbrush, hairbands, ties, and clips—and let their creativity run wild.
Over to you…
Besides introducing your child to proper skin and hair care, doing these beauty activities for kids will also help you bond with them. Plus, they'll discover how to gather readily available materials to create something new and useful, while also developing management skills. Gorgeous skin is the icing on the cake. After all, don't we all deserve some pamper time?