Femininity isn't easy to define—some believe it's all about clothes, while others claim it's about makeup.
In a world that doesn't value femininity much, it's no wonder men and women find it hard to be more like it.
Those of you who feel feminine is something you just aren't naturally, don't fret. The good news is, you can figure out how to be more feminine in ways that feel natural to you.
So, let's get started!
What's Being Feminine Like?
Being feminine is a delicate balance of attributes, behaviors, and cultural, social, and biological characteristics that define women.
Femininity is a state of mind, a way of living, and a set of beliefs. Also, it's a style, a way to do things. Female beauty comes from a combination of all these things.
Contrary to popular belief, femininity is not a flaw or a reason to consider yourself less worthy than a man.
In fact, being feminine involves celebrating all the beautiful things about women, from grace to beauty and empathy and so on.
What traits make a woman feminine?
There is no one-size-fits-all answer, though feminine women share some common traits.
Generally, women who identify as feminine are more intuitive and expressive than men. Moreover, they may place greater value on relationships and caring for others.
Feminine women often enjoy dressing up classy and looking their best and typically have a strong sense of style. Many say wearing makeup brings them a sense of self-confidence.
In a nutshell, a feminine woman embodies all the good qualities of humanity—sensitivity, compassion, kindness, affection, and understanding.
Why Should you Be More Feminine?
The question should be: why not? There's no denying that women are beautiful inside and out.
Firstly, femininity is attractive. It's why so many men are drawn to women in the first place. When you act like a lady, you're going to turn heads and make people take notice.
You feel good when you're feminine, giving you more confidence and a greater sense of self-esteem. Moreover, the feminine aura conveys warmth and kindness.
On the whole, femininity makes life easier. Showing the polite, charming side of your personality will allow you to make more friends and network more easily.
Now, let's get right to it: quick ways to embrace your inner woman: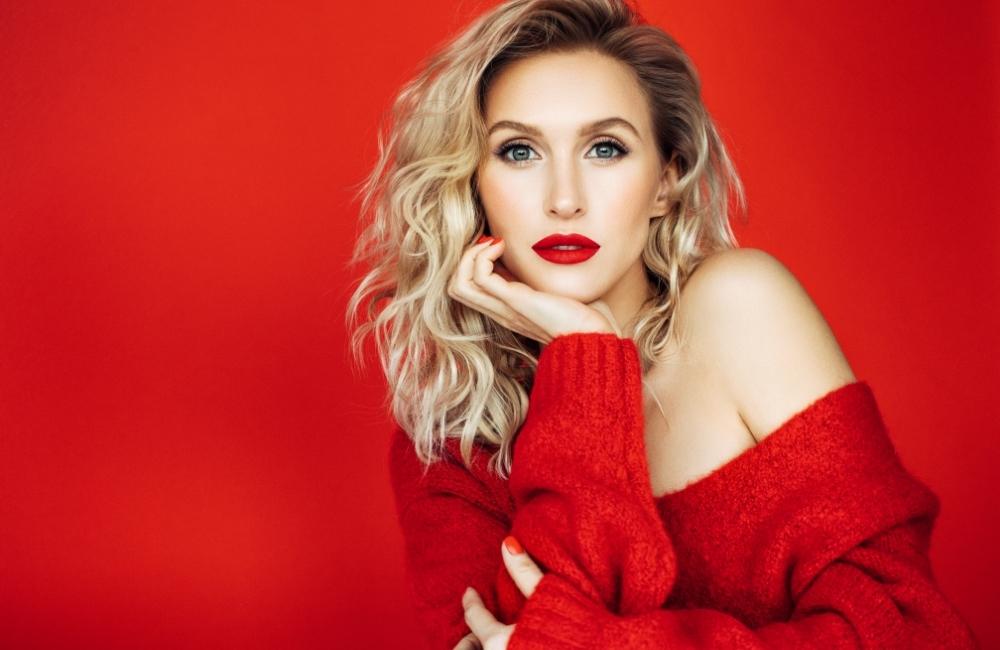 How to Look More Feminine
When it comes to looking more feminine, you can do a few things and get more compliments.
1. Do your eyebrows
Eyebrows shape the face, frame the eyes, and literally frame the female face—don't let them grow bushy. Shape them and brush them while investing in good eyebrow products.
2. Put on some makeup
Not necessary, but it never hurts. Choose soft pinks or reds for your lips, and highlight those cheeks with a light shade to make them pop. Also, pop in some hot high heels.
3. A little mani goes a long way
You would end up looking anything but feminine with chipped or bitten nails. Put some effort and keep your nails in shape. Nude or pink nail colors give that classy vibe and have your hands looking fabulous all the time.
4. Add jewelry
Make your smile and eyes pop with minimal, chic jewelry. Depending on the undertone of your skin, choose silver or gold jewelry. For timeless elegance, how about pearls and diamonds?
5. Stay clean
Maintaining personal hygiene and looking feminine go hand in hand. Set aside some time for grooming yourself, indulge in a relaxing shower, and keep your hair clean. You can also shave, wax, or pluck out unwanted hair.
The more you take care of yourself, the more attractive you'll be, and the better you'll feel.
6. Get into skincare
There's no need to spend a fortune to start a skincare routine to look more feminine. Simple changes can transform you:
Choose a mild cleanser that won't strip your skin of its natural oils.
Apply a light moisturizer every day, especially if you have dry skin.
Always wear good-quality sunscreen when outdoors.
Regularly exfoliate and apply face masks to your skin.
Pick products that suit your skin type.
7. Smell good
Choose good brands with delicate scents. You can choose between sweeter, floral notes or warm, sensual notes of the fragrance, depending on your tastes.
8. Stock up on lingerie
Your undergarments set the tone for your entire day. Some lacy bras sit on top of your chest rather than underneath, while others come with cute garter belts that can put a little more flair into your undies.
Pick lingerie that fits well, enhances your physical features and makes you feel beautiful.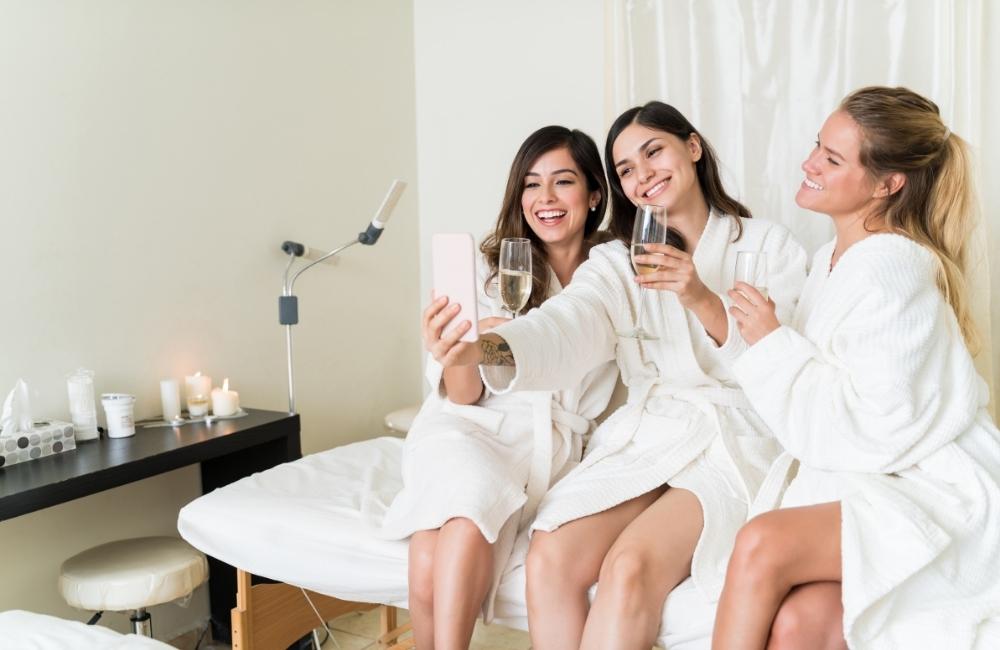 How to Act More Feminine
Take these steps to discover your true self, cultivate more confidence, and exude your femininity to the fullest.
9. Have grace
While there is no set way to act gracefully, there are some ways to make yourself appear more feminine and poised.
Walk softly and sway your hips, adding a subtle touch to your swing. Avoid quick, choppy steps.
Use soft, flowing hand gestures when speaking. Don't clench your fists or fiddle with your clothes.
Avoid sudden movements. Keeping your body relaxed and still is the best way to appear approachable.
10. Don't be afraid to flirt
Exude your girly charm: flirt and be yourself with men. Play along with their jokes, tease them lightheartedly and generally act like you're having fun. While you're at it, be sure you're not sending the wrong signal to those you're not interested in.
11. Keep a positive mindset
When grace fails, it is about stepping on your own toes and laughing it off.
Trust that your greatest accomplishments lie within you. Your positive mindset will shine through everything you do, and people will start seeing you as more confident and attractive.
12. Hang out with your girls
Radiate feminine energy with your gal pals occasionally. Girl's day out is a great chance to let your hair down, have fun, and feel great! Be silly and have fun!
13. Maintain good posture
Do not slouch like you've just rolled out of bed all the time. Cross your legs at the ankles, sit straight, and keep your shoulders back and chin up. Also, hold your head high.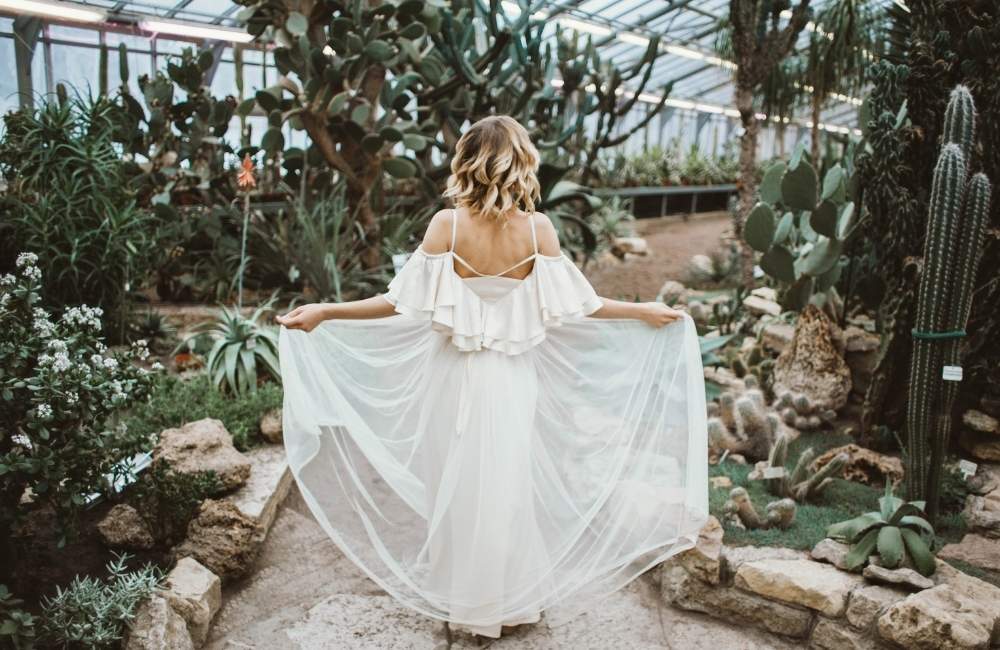 How to Dress More Feminine
When you're used to dressing and acting a certain way, breaking out of that mold can seem difficult. If you want to dress more feminine, don't despair. With a few essential tips, dressing more feminine can be a breeze.
14. Replace your tees with chic, dressy tops
Next time you shop for clothes, choose a sweet color with lace, ruffles, or ornamentation. Pick a fit that accentuates your body's shape and curves. Put them together with shorts or pants, skirts or jeans, and add a belt for shape.
15. Let your colors captivate
Go for pastel hues. You can go with classy and bright colors like beige, lavender, baby blue, butter yellow, soft pink, or a muted mauve for a pretty and delicate look.
With feminine accents such as lace or ruffles, you can soften neutral colors such as black, brown, and gray.
16. Wear skirts
While extremely short skirts aren't generally appropriate at the workplace, skirts that fall below the knee look great on a lot of women. Similarly, A-line and swing skirts flatter many types of figures. Add an ankle boot or a glimmering belt.
17. Pick the right dress
Make sure that your dress has a neckline that highlights your collarbones, soft colors that match your complexion, and graceful fabrics such as silk or chiffon.
Empire waist dresses can slim your waistline and define it. Moreover, the flared bottom creates the impression of longer legs.
Sheath dresses elegantly hug your curves while making your body appear slender. Additionally, it gives you a very hourglass-like figure.
Wrap or bodycon dresses wrap around your body to create a flattering silhouette. Besides enhancing your bust, these dresses hug your figure and make you look incredibly hot.
18. Hosiery is heaven
Nothing looks more enticing and classy than tights or stockings clad legs in the right color. Opt for sheer coverage and nude or black colors to show off those legs while you strut your stuff.
19. Heels over sneakers
Heels enhance your natural walk, add length to your legs and make your butt look perkier, so it's no surprise that most stylish women own at least a few pairs.
To ease into wearing heels, begin with low heels or kitten heels. As you get more comfortable, you can move up to higher stilettos. Make sure you practice walking in them before stepping out into the real world—you don't want to stumble out in public.
20. Try feminine hairdos
Long hair is often seen as feminine. While it's not absolutely necessary, growing your hair past your shoulders definitely enhances your looks.
Also, try these tips:
Pin your hair up into a pretty bun or chignon. A classic, put-together look.
Create a soft, flowing style with lots of waves or curls.
Try wearing a pretty headband or flowers in your hair for a feminine touch.
Brighten your hair with highlights and lowlights. It will frame your face and make you look even more beautiful.
If you have short hair, you might want to grow it out and try out different styles until you find one you like.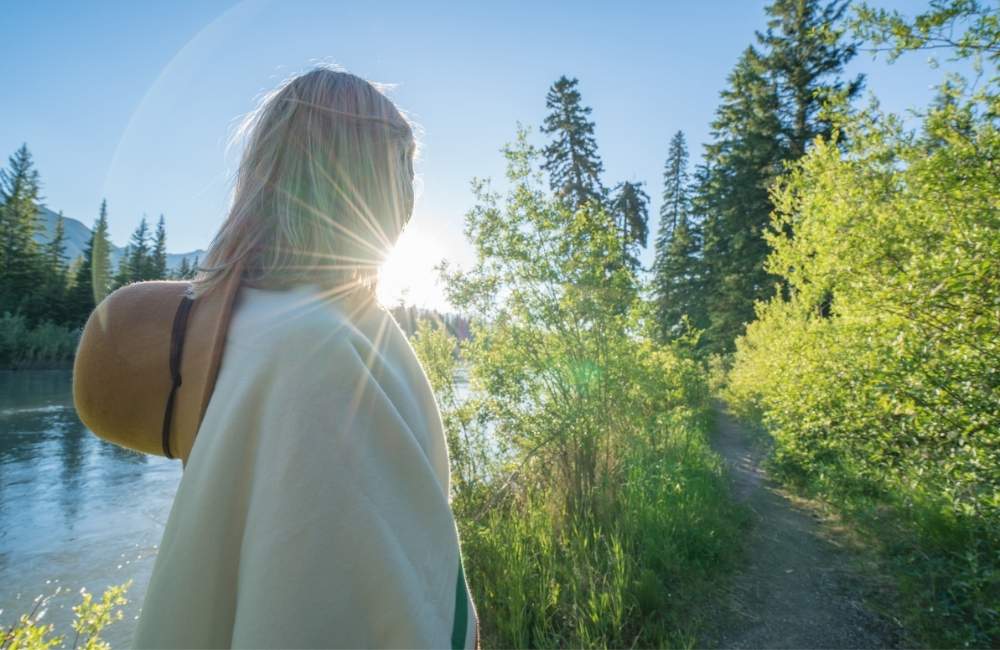 How to Have More Feminine Energy
The divine feminine is radiant, loving, creative, and nurturing. Feel like your energy is flat and dull, and there's never enough of it no matter what you do? If so, you're in luck. You can do things that will boost your feminine energy.
21. Just relax
Is your feminine energy low? Stressed out, but you don't know what to do?
First, find a comfortable place to sit or recline.
Close your eyes and breathe deeply through your nose and out your mouth. As you breathe, visualize yourself releasing any stress or tension you're carrying.
Now, begin to focus on your body. Make your way up from your feet, noticing any areas that feel sore or stiff. Take a moment to gently massage these points to relieve tension.
Once you've worked through your whole body, breathe deeply and allow yourself to rest.
22. Speak up
Femininity is about listening to your mind and heart, including voicing opinions.
With the right choice of words, speak your truth, even if it makes others uncomfortable, and watch the world work for you.
By sharing your authentic thoughts and feelings, you reveal your feminine side. While a challenge at first, it will become easier as you practice.
23. Develop your confidence
Confidence is the foundation of a powerful woman, but how do you cultivate it? Thankfully, there are many different ways.
Focus on your strengths and accomplishments. Write down your five best qualities and live by them whenever you need a lift.
Feel confident and beautiful in a dress or skirt that complements your beauty.
Don a little makeup, do your hair, and go ahead and feel good about yourself.
Hang out with positive people. Keep your distance from those who bring you down.
Accept your beauty, competence, and above all, your worth without seeking validation from others.
24. Let your creativity flow
Embracing our feminine side allows us to be more creative in our work, relationships, and everyday life. Plus, we can tap into our intuition to help guide our decisions.
Be brave and open to experimenting with new ideas. Whether you're painting or making pottery, don't hold yourself back. Bake yourself a treat. After all, being feminine is as simple as cooking something delicious.
25. Embrace harmony
You must be calm and balanced yourself before being able to make an impact on others. This can be done by working on your relationships with others, practicing forgiveness, and letting go.
Beyond that, positive thinking and compassion go a long way. By doing so, you'll project an aura of feminine charm that will attract others.
26. Uplift other women
Together, women can accomplish a great deal of change and healing. Let your strength and resilience shine as you interact with others. Let go of judgment and criticism and let love and support flow. At the same time, be conscious of your words and actions since they can have a big impact on others.
How to Feel More Feminine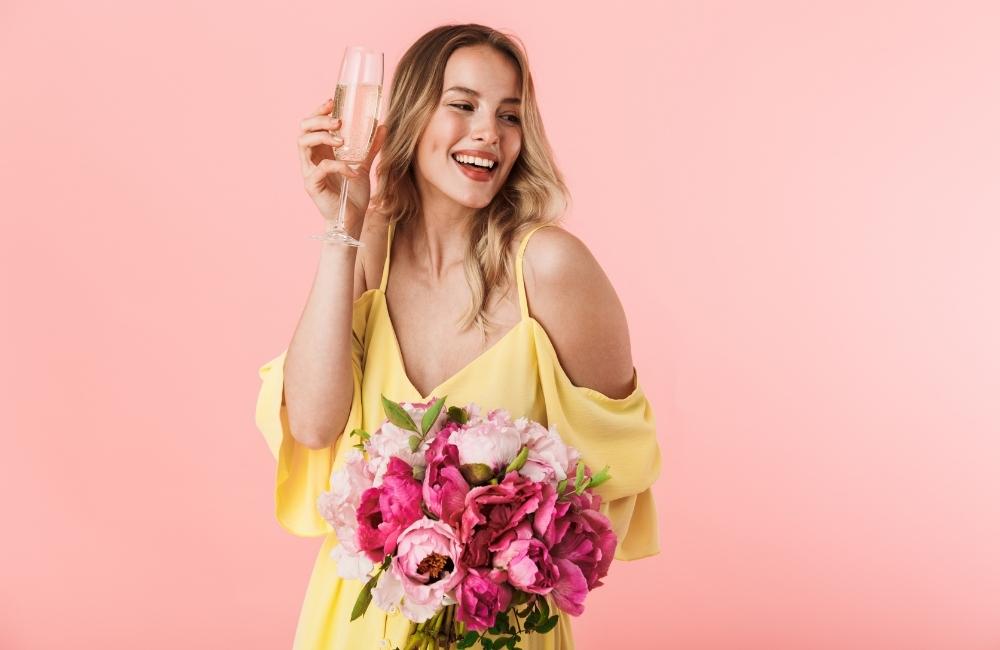 Wanting to look feminine is one thing, but feeling feminine is another. Here's how you can achieve both.
27. Tune in to nature
You can feel the energy in nature—water rushing, flowing wind, trees swaying—it's all there. Taking in the beauty of the earth can help you connect with life cycles and bring about harmony within you. Using this energy, we can empower ourselves and connect with others more deeply.
Try these ways to reconnect with nature:
Find a quiet spot in the woods to take in the scenery.
Let the morning breeze or the colors of the sunset calm your mind.
Decorate your home with natural plants and flowers.
Enjoy an evening bath and let it relax your mind and spirit.
While you're out in nature, take note of the sights, smells, sounds, and textures you encounter.
28. Flaunt your curves
You can actually look less feminine if you wear baggy clothes to cover up your curves. This doesn't mean wearing tight clothes either – just ones that fit your body type well. Take pride in your body and the way you look by dressing in a way that will make your curves pop.
29. Indulge in self-care
If you've had a long day, read a good book, take care of your skin or unwind with some music and let the negative energy leave your body. Treat yourself to at-home spa sessions and splurge on comfy sleepwear for a well-deserved night's sleep. After all, whatever makes you feel good is worth doing!
30. Try to forgive
Forgiveness involves letting go of anger and resentment. When you accept people for who they are, you stop expecting them to be perfect. And that goes for you, too. By forgiving, you let go of the need to always be right. It's a sign of strength and vulnerability, which can empower you.
31. Look after your mental health
While we focus a lot on our physical health, we shouldn't forget about our mental health. A healthy mind makes it easier to let go of negative thoughts and emotions that hold you back. The best part? You'll walk taller, hold your head high, and smile more. So whenever you need to, give yourself permission to take a break from everything else and just focus on your happiness. Ultimately, being feminine starts from within and radiates outwards.
32. Be courteous
Wait for your turn to speak, be helpful and kind to others around you—do not come off rude. When talking with others, exhibit polite behavior. Keep your body language friendly, and if you're having trouble, fake it until you make it.
33. Offer compliments
This is a way to bring out your soft side. Plus, you make new friends there.
Compliment anyone on anything, from outfits to achievements. When you find something that you genuinely like or admire in another person, tell them!
At the same time, be specific and sincere. After all, phony compliments only leave other people feeling uncomfortable.
34. Have a girls' night out
It's fun to be around other women, share laughs, and enjoy one another's company. Plus, it's a great way to let off some steam after a long week.
So make time for your girlfriends and plan a night out. Go to your favorite restaurant, watch a movie, or head to the bar and soak up the feminine vibes.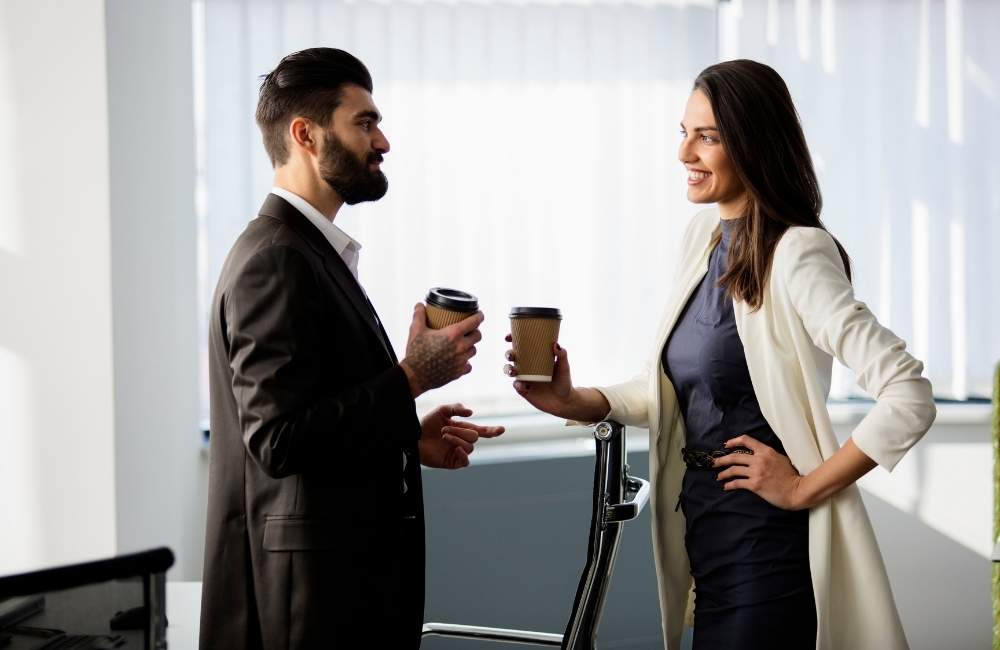 How to Sound More Feminine
Change the way you talk, and your body follows suit. Here are a few ways to emit a feminine aura using words, phrases, and body language.
35. Pick words carefully
You'll sound more like the woman you want to be with the right words. Changing a few simple things about how you speak and communicate can help you become more feminine:
Instead of saying, "Excuse me," choose to say, "I beg your pardon." Rather than interrupting a conversation, say, "May I speak?".
36. Say "please"
Be polite whenever necessary. "Could you please pass me the salt?" "May I please get the call?" See? No big deal.
37. Say "thank you"
Express gratitude. Be thankful for the help you receive. "thank you for your patience", "thank you for dropping me off ." Being impeccable in manners shows nothing but class and femininity.
38. Avoid swearing
The next time you feel like venting, try one of these: damn, heck, crap, sh*t. Or try softer phrases like "Good lord!" or "Heavens!" instead. Keep the F word out of inappropriate places.
39. Use high pitch
How you sound determines how people perceive you. As a matter of fact, a loud, harsh voice is typically seen as masculine.
When you speak in a gentle voice, you project an image of warmth and kindness. In other words, speak in a high, softer pitch if you want to sound feminine.
40. Speak clearly
Mumbling or becoming inaudible is the last thing you want. Choose your words carefully and speak with thought. Let them know what you think and make yourself heard.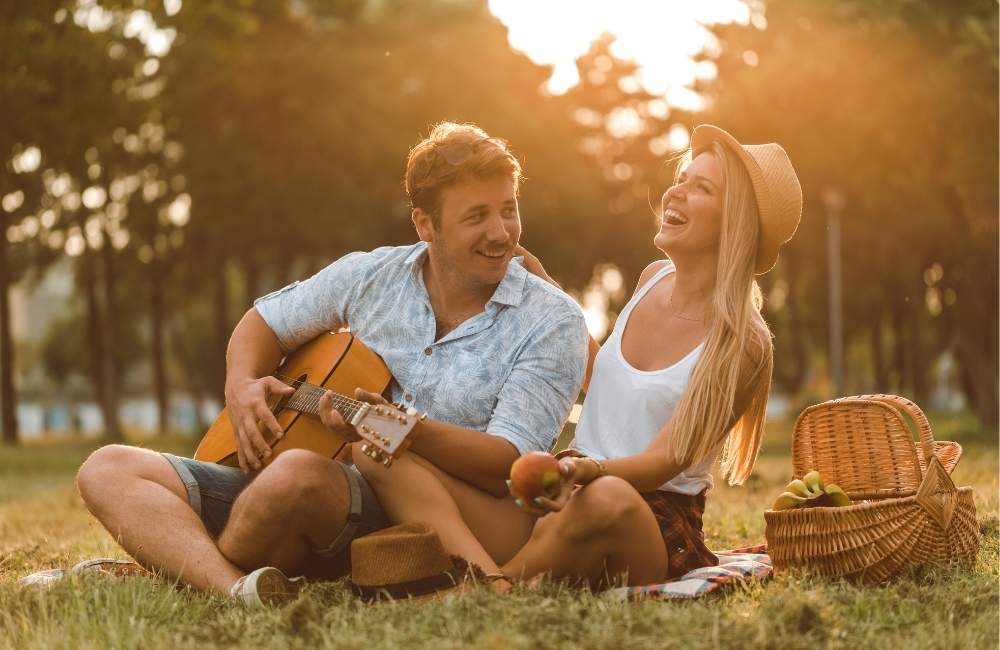 How to Be More Feminine in Relationships
Many of us believe we don't embody traditional femininity in our relationships, so we struggle to express it. Nevertheless, there are still ways you can become more feminine for your partner:
41. Allow yourself to receive
Women generally like receiving gifts, compliments, and romance. Whether it's support from your partner to comfort you or love coming from your children, family, or friends—let go of your fear and receive. So go ahead, indulge yourself a bit. After all, you deserve it.
42. Stop seeking validation
Don't constantly seek approval from your partner; instead, cultivate your self-confidence and own the person you are. This will allow you to stop depending on the approval of others.
Make sure you do things that make you happy and feel beautiful both inside and out. Also, engage with supportive and uplifting people.
43. Accept compliments
Don't shake off a man's compliment out of modesty. Let him tell you how beautiful you are, an embodiment of Aphrodite. Learn to accept compliments about your kind and gracious nature with a hearty "thank you."
44. Help him around
Just offer to help when he needs it. If your partner is having trouble with a project, offer to help. They'll feel appreciated, and you'll look more feminine and supportive. Don't lift the couch by yourself, though. Help him carry groceries or clean up. Remember: the little things matter.
45. Let him lead the way
Not every hug and kiss has to come from you. Occasionally, let him run after you. This keeps things exciting, playful, and spontaneous. Plus, you'll feel like a pretty enchantress.
46. Slowly lean out of "wearing the pants"
If you like to run every decision yourself, let yourself slowly break the habit. When making big decisions, take a step back or simply ask their opinion more often.
Change doesn't have to be all or nothing either; start small and see how you feel. Often, a little bit of softness makes a world of difference.
47. Communicate more
Talking always works. Being expressive with your partner can enhance your life as a woman.
Use your body language and facial expressions. For example, if you're sad, crease your forehead and lower your brows. That will convey how you feel.
Ask open-ended questions. Asking questions beyond a simple yes or no allows for a deeper conversation and creates a stronger bond.
Listen. When you're all in on what your partner says, it shows your care.
48. Celebrate your sensuality
Wear sensual clothing, use toys, and watch erotica. Share what turns you on with your partner, so you can discover what each other craves and fantasizes. We women are naturally sensual, so triggering his male instincts can bring you a good time.
49. Make him the boss
Let him have the position of power. Lay back and let them tingle your feminine instincts, enjoy the feeling of being a salacious, powerful woman, and soak up all that it offers.
50. Let him pay
Sometimes, it's okay to let your partner pay. This gives them a way to feel in control and do something helpful for the relationship. Also, expressing gratitude for your partner's willingness to take on more traditional gender roles will make them feel valued and you, more ladylike.
51. Receive gifts graciously
When you accept and appreciate gifts from your partner, you will seem softer and kinder as a woman. When you thank him, smile like a queen.
52. Support your man
Stay by his side through his highs and lows and motivate him when he needs it. Be that extra push he needs to improve his life. Being feminine means radiating compassion when your man needs it most.
53. Love yourself everyday
Know yourself before you meet someone else. The secret to becoming a magical woman lies in loving yourself—no one can make you feel powerful and beautiful except for you. So, just be you, know that you are enough, and let your inner girl out.
The takeaway
Knowing how to be more feminine is not hard — you just need to know your strengths, work on your weaknesses, and be confident. As a woman, remember that there is no right or wrong way to be, and your best bet is to be yourself. So honor your femininity in whatever way feels authentic for you.